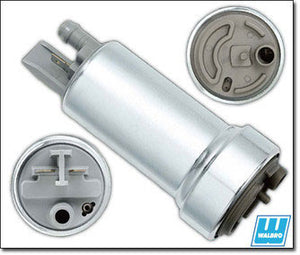 Walbro Fuel Pump 650HP 400lph In-Tank
Regular price $182.00 Sale
Universal Intank Fuel Pump Fuel suited for up to 650hp
Horsepower: 500HP+ Flow Rate: 400LPH Outperforms all current market in-tank fuel pumps Designed for engines with more than 500HP Award-winning OE technology Dual channel turbine design for maximum efficiency under high pressure and high temperature applications. The F90000262 requires modifications to system wiring, fuel lines and the fuel module, and should be professionally installed. The innovative design of the DCSS 39/50 features a single impeller with two parallel rows of turbine blades. Designed for high performance engines exceeding 500hp. Designed for gasoline applications. Designed for E85 use part number TIA485 Instead The blades feed two high-pressure pumping channels, as opposed to a conventional single-stage pump that uses an impeller with a single row of blades at its outer edge. This innovative design results in improved hot fuel flow, as well as minimal noise and current use, resulting in efficiency that's 20 percent higher than conventional pumps.

Disclaimer Notice:
Please take note this pump is designed for modified vehicles with
over 500HP ONLY. Vehicles in which this pump is to be installed in
should have upgraded supply and return fuel lines, upgraded
pump wiring to support the high current draw, and upgrades to
the vehicle fuel pressure regulator. This pump is NOT designed for
use in a stock or lightly modified vehicle with less than 500HP, the
use of this pump in that type of application can result in severe
drivability issues and/or damage to the vehicle.