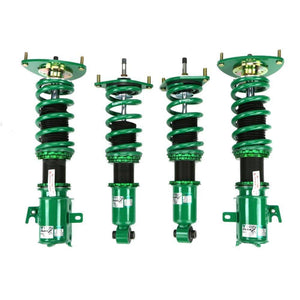 Tein Flex Z Coilovers 300ZX / Z32
Regular price $1,413.00 $1,350.00 Sale
Flex Z are a high quality Japanese coilover that are perfect for everyday driving as well as on the track.
Full length ride height adjustment system, used for Flex Z, enables adjustment of ride height by adjusting the case length, without changing the damper stroke length and spring pre-load.
Perfect for larger tyre and rim options while maintaining the ride quality on streets with the Flex Z twin tube system. 
We do have a few of the common sets in stock but please allow up to 6 weeks if they need to come from Japan.
We can also Install anything we sell and arrange certification, please contact us if you have any questions.
Free shipping NZ wide on all Tein
Tein part number - VSN22-C1SS3