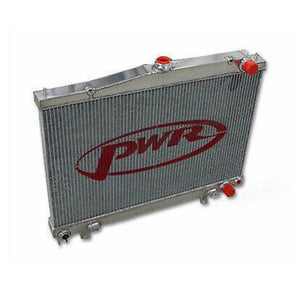 Nissan Skyline R33 GTS GTST GTR R34 GTT(1995-2002) PWR Radiator
Regular price $812.00 Sale
Brand new radiator for Nissan Skyline R33 GTS GTST GTR R34 GTT(1995-2002)
Please note will fit R34 Skyline except for GTR
All PWR radiators are CAD designed and hand built in-house at their state-of-the-art facilities on Australia's own Gold Coast with world-class TIG welding processes. Utilising high-grade aluminium, unique wider tube configuration and revolutionary louver fin design angle, PWR radiators maximise cooling efficiency by up to 30% more than standard to consistently deliver fresh, cold coolant to your engine no matter the conditions or level abuse its subjected to. Few brand names are as synonymous as PWR when it comes to motorsport and performance automotive parts.
Supplying performance radiators for applications such as highly strung drag racing builds, screaming drift car powerplants and even racing disciplines including Formula 1, NASCAR and V8 Supercars, its no wonder these radiators are a go-to when it comes to building a cooling system for performance projects, track car builds or any application where battling engine temperatures is vital.
Please note PWR radiators are made to order in Australia and given the current world climate may take up to approximately twelve weeks to arrive. If you have any specific customizations or modifications you would like to make to your radiator please let us know before ordering.
PWR0943 PWR0546