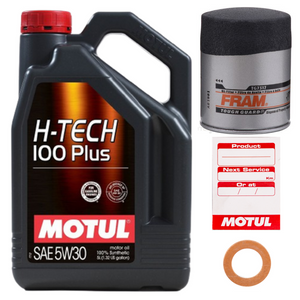 Nissan Skyline V35 Motul Oil Service Kit
Regular price $82.00 Sale
Want to service your vehicle yourself with the best quality oil and filter? This kit is for you.
Perfect for any Nissan Skyline V35 with VQ25DD VQ30DD VQ35DE engine
Included in this kit is the following:
1 x 5 liter H-Tech 100 Plus 5w30
1 x Ryco oil filter Z436
1 x Service label
1 x Sump plug washer
Oil Information:
Motul H-Tech 100 Plus 5w30 is a 100% Synthetic Fuel Economy engine oil specially formulated to provide ultimate level of power especially for recent gasoline engine designs. It has: Protection from Low Speed Pre-Ignition to prevent premature hardware failure, additional timing chains and valve train wear protection for engine durability, improved piston cleanliness with anti-deposits and anti-sludge protection to maintain a clean engine, protects vehicle emission system component for emission control systems durability and outstanding oxidation resistance preventing premature oil thickening and ageing due to thermal stress.
We can offer a service kit for most vehicles, if your vehicle doesn't have a listed kit contact us and we can arrange one.