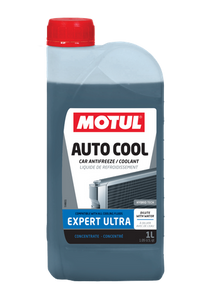 Motul Autocool Expert Ultra 1L
Regular price $18.00 Sale
MOTUL AUTO COOL EXPERT ULTRA is a concentrated long life antifreeze that should be mixed with soft water for immediate use as a coolant liquid, based on monoethyleneglycol hybrid organic / non organic mix additive technology, named Hybrid Tech. This product can be mixed with all monoethyleneglycol based coolants.
Recommended for all cooling systems: passenger cars, heavy duty, construction and agriculture vehicles, gardening, ships, stationary engines …
Protects the cooling system from freezing and metallic parts from corrosion. Provides an excellent thermal exchange and therefore improves engine cooling efficiency. Both silicates and organic acids provide anti-corrosion properties that remain while aging. Seals, hoses, pipes and plastic parts friendly.
Concentrated formula protection (down to -54°C / -65°F). Concentrated anti-freeze to dilute with water.
OEM Approval: 

BMW N 600 69.0,CUMMINS 85T8-2,MS-7170,MB 325.0/325.2,NC 956-16,IVECO 55523/1,IVECO 18-1830,ESD-M97B49-A,QL 130100,6901599,JIC-501,TTM VAZ 1.97.717-97,DW03245403,MAN 324 TYP NF / MAN 324,MTL 5048,PERKINS,TL-VW 774 C = G 11

Application:

 

COOLING SYSTEM,CONCENTRATE

Engine Type:

 

ALL
109113