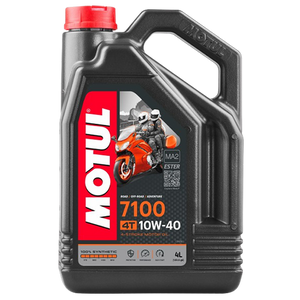 Motul 7100 4T 10w40 4L
Regular price $84.00 Sale
Motul 7100 4T 10w40 is recommended for high performance bikes, sports bikes, street & road bikes, trails, off road bikes, enduro, trial…fitted with 4 stroke engines, integrated gearbox or not, wet or dry clutch, engines meeting Euro 2 or Euro 3 emission regulation, fitted with exhaust gas after treatment systems : catalytic converters, air injection into exhaust pipe...
100% synthetic lubricant based on Ester-Technology. Standard viscosity grade, almost recommended by motorcycle manufacturers worldwide. Anti-wear additives and shear resistance for perfect gear protection and life time. JASO MA2 warranties a better output between friction plates of wet clutch and ensure a perfect clutch lock up at take off, acceleration and full speed. Easy gear shifting.
Motul has a range of engine lubricants perfect to protect the rotary engine
As the Stationary Gear has a Rotor rotating around it, oil is also used to lubricate
the teeth on the Stationary Gear the gear in the Rotor as its compressed
between 2 metal surface in a gear form We have seen significant decrease in stationary gear wear using Motul 7100 4T 10w40.
API Standard:

 

SG,SH,SJ,SL,SM,SN

JASO Standard:

 

MA2

Application:

 

ENGINE OIL, ROTARY ENGINE OIL

Engine Type:

 

PETROL

Quality:

 

100% SYNTHETIC

Viscosity:

 

10W40
104204