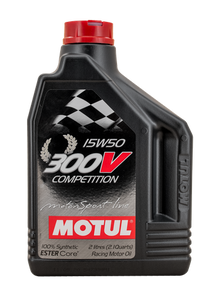 Motul 300V Comp 15w50 2L
Regular price $57.00 Sale
Motul 300V Comp 15w50 is for all racing gasoline or diesel engines, naturally aspirated or turbocharged fitted with injection (direct / indirect) or carburetted. For race prepared engines operating over a wide range of rpm and temperatures.
For decades MOTUL has developed high performance synthetic Ester based lubricants. By selecting esters over other high performance synthetic base stocks and combining them with an innovative additive package, MOTUL has created a perfect synergy. This most advanced E Technology allows maximum power output of the engine without compromising reliability and wear.
300V Competition 15W-50 is particularly recommended for endurance racing engines or old racing engines (rebuilt engines) which need enhanced protection against wear and oil pressure drops. For optimal engine performances avoid mixing with other synthetic or mineral lubricants. Suitable for alcohol based fuel with shortened drain interval. Oil Change : Consult your tuning service partner for the appropriate drain interval.
Application:

 

ENGINE OIL,RACING, ROTARY ENGINE OIL

Engine Type:

 

PETROL

Viscosity:

 

15W50