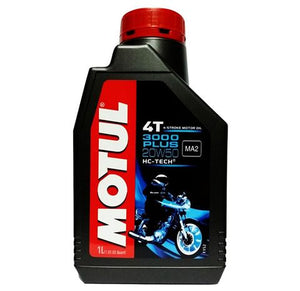 Motul 3000 Plus 4T 20w50 1L
Regular price $10.00 Sale
Motul 3000 Plus 4T 20w50 is a mineral lubricant specially reinforced with extreme pressure additives for gearbox protection and improve gears life time. High detergent and dispersive properties for engine cleanliness. Compatible with catalytic converters. Specific viscosity grade compensate fuel dilution, reduces oil consumption and allow smooth shifting. Almost recommended for older big bore engines thumpers, twins, oil-/air or liquid cooled engines.
Motul has a range of engine lubricants perfect to protect the rotary engine
As the Stationary Gear has a Rotor rotating around it, oil is also used to lubricate
the teeth on the Stationary Gear the gear in the Rotor as its compressed
between 2 metal surface in a gear form We have seen significant decrease in stationary gear wear using Motul 3000 Plus 4T 20w50.
Application:

 MOTORBIKE 

ENGINE OIL, ROTARY ENGINE OIL

Engine Type:

 

PETROL

Quality:

 

MINERAL

Viscosity:

 2

0W50
108150