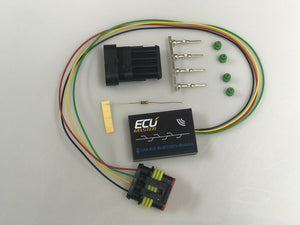 ECU Master Bluetooth to CAN Module
Regular price $125.00 $162.00 Sale
The Bluetooth module allows you to transmit ECUMASTER log data via Bluetooth communication. It makes it possible to trace all important engine parameters in real-time using Android compatible devices.
There is also a third party Dashboard application available. For more information see http://www.realdash.net.
This is not combatable with EMU Classic Units.
Key features
Free application available in Google Play store
Logged channels: RPM, MAP, TPS, IAT, AFR, CLT, LAMBDA, BATTERY VOLTAGE, IGNITION ANGLE, INJECTORS PW, SEC. INJECTORS PW, INJECTORS DC, EGT #1 and #2, KNOCK LEVEL, DWELL TIME, CURRENT GEAR, BARO PRESSURE, ANALOG #1,#2,#3,#4, COOLANT TEMPERATURE, OIL PRESSURE, OIL TEMPERATURE, FUEL PRESSURE, ETHANOL CONTENT, FUEL TEMPERATURE, VEHICLE SPEED, FUEL PRESSURE DELTA, FUEL LEVEL, TABLES SET ,CHECK ENGINE CODE
Depending on stock levels these may take up to 15 working days to arrive from Europe.