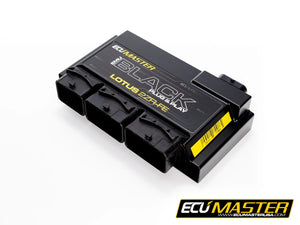 ECU Master EMU Black LOTUS 2ZR-FE/ 1ZR-FE PNP Engine Management Unit
Regular price $2,436.00 $2,374.00 Sale
ECUMASTER EMU Black 2ZR EMU Black Plug in ECU suits the 220, 250, and 260 Cup models. The ECU comes with a USB cable and a connector and terminals for additional functions. This ECU is fully programmable, along with many forms of failsafe's, and retains full dash functionality, including mode and warning messages.
The EMU features more built-in value than any other aftermarket ECU. It easily matches the functionality of other stand-alone management systems with advanced VE fueling strategies and multiple inputs and outputs. Unlike many other ECU systems, EMU has built-in wideband lambda input (Bosch LSU 4.2, and LSU 4.9 sensors wire directly in), MAP control connector (4 bar MAP internal MAP sensor), 2 EGT probe inputs and an input to directly connect a Flex Fuel ethanol content sensor. All of this provides greater flexibility, reduces costs and negates the requirement for external or supplementary signal conditioning control systems and the associated wiring that other management systems require.
Outputs

Injector - 6 protected outputs 5A, low side 
Ignition -

 

6 outputs 7A(15A peak) (passive & active coils supported)

Aux - 6 protected outputs 5A, low side
Other Outputs - Full bridge up to 7A, can be used as separate outputs or 2 H-Bridges
WBO Heater - Protected low side up to 5A 
Communication - 

Serial, CAN BUS 2.0B
Inputs
Analog - 9 inputs, resolution 10Bits, 0-5V (protected)
EGT - 2 for K-Type thermocouple
Knock Sensor - 2 inputs
Oxygen Sensor - LSU 4.2, LSU 4.9 or Narrow band
Trigger - 3 (primary, 2 cams) Hall/ VR software selectable
VSS - 1 (Hall / VR)
Flex fuel - Yes 
Switch - 3 inputs, switched to ground
Please contact us if you need any further information about this ECU or have questions regarding it's suitability for your project.
There are also plug in harnesses for this ECU to fit specific applications. 
Note this product comes from Europe and could take up to 10 working days to arrive.