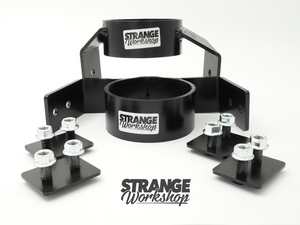 BMW E46 Driveshaft Hoops x2
Regular price $206.00 Sale
1x set of custom made drive shaft hoops (loops) for a BMW E46 made from 50mmx5mm steel. You will need these for LVV certification if you have swapped engines or increased power substantially and a must for any serious race car. Each drive shaft hoop is made for your vehicle and fitted using new M10 bolts and nuts with supplied doubler plates as per pic and cert requirements.

Price excludes fitting etc, this is for the kit only but fitting service is possible for extra cost.
Kit Includes:
Front hoop
Rear hoop
4x doubler plates with bolts (welded)
8x M10 Nuts

As these are all made per order, depending on workload, it may take more than a day for turn-around, bookings for fittings are essential upon purchase.
Please select your gearbox when purchasing


BMW, 3 series, M50 320i, 318i, 318ti, 325i, LVVTA