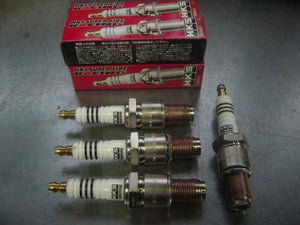 4X HKS Mazda Rotary racing spark plugs M50RE
Regular price $200.00 Sale
The HKS Super Fire Racing Spark Plug - M-RE Series are RE Type exclusively developed for Rotary Engines and utilize both Iridium and Platinum for utmost performance for street and race applications. The M Series are recommended for reliable ignition, durability and anti-carbon buildup under high load. This are the Ultimate spark plug for increasing performance of tuned or stock engines.

FEATURES:
0.6mm Iridium Alloy Center Electrode:
- Alloy Center Electrode reduces voltage requirement as well as improving ignition performance and durability.

Outer Electrode with Platinum Chip:
- The Outer Electrode incorporates a square platinum chip which improves durability, and when combined with the iridium center electrode boosts ignition performance. The Outer Electrode features a shortened tip design and tapered shape while maintaining the necessary space for proper ignition.

Short Type Outer Electrode (Anti-Vibration):
- The outer electrode has been shortened and engineered with the ideal shape to decrease weight for resistance against vibration. This anti-vibration design improves longevity of the outer electrode.

Thermal Edge:
- After long idling or various combustion conditions carbon buildup can occur causing misfires. The Thermal Edge of the ceramic insulator will discharge to help decrease carbon deposits.

Spark Support Gap:
- Discharges will occur in the Spark Support Gap (space between the tip of insulator and the base of the outer electrode) to help prevent carbon buildup.

PERFORMANCE AND EFFICIENCY:
improved Ignition Performance:
- Decreased voltage requirement strengthens ignition performance under harsh conditions like lean mixture or high boost pressure.

Improved Durability:
- New material and design improves durability, which allows for use under hard combustion conditions like continuous high load during circuit driving or aggressive tuning.
Note: Improper combustion condition and wrong heat range selection might cause damage to spark plug.


Please note that this will take up to 5 days to deliver 

Suits FD FD3S FC FC3S 13B RX7