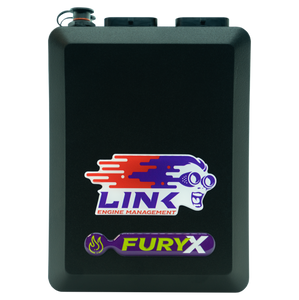 G4X FuryX Link ECU - Wire In
Regular price $1,936.00 Sale
The FuryX is a premium ECU like the XtremeX, but with added Onboard Digital Wideband Lambda Control. Now on the G4X platform, the FuryX features a faster processor, faster communications & a huge 512 megabytes of data logging! 

With 8 injector drives and 6 ignition drives, the FuryX can control up to 3 rotors or 6 cylinders with sequential injection and direct spark, making it an excellent choice for professional level motorsport or more demanding road car applications.

The added benefit of a Onboard Digital Wideband Lambda Controller means higher accuracy of the unit, plus a simple setup. 

Inputs
8/10* x Digital inputs
4 x Temperature inputs
9 x Analog inputs
2 x Trigger inputs
2 x Knock inputs
1 x LSU 4.9 Wideband lambda sensor input
Outputs
8 x Injection drives
6 x Ignition drivers
10 x Auxiliary outputs^
+5V Sensor power supply
+8V Sensor power supply
^unused fuel and ignition drives can be used as additional Aux outputs
Communications
2* x CAN bus
1x Serial (RS232) connection
1x USB tuning connection
*DI 9 & 10 pins used by second CAN Bus 
Link G4X ECUs do not require the use of an air flow meter. The engine can be converted to speed density using a MAP sensor and an intake air temperature (IAT) sensor (both sold separately)

The G4X FuryX comes with a non-engine-specific base map. The ECU will need to be configured for the engine type and then tuned by a professional. The ECU comes with free PCLink software.

PLEASE NOTE***
This item is for the ECU only, this ECU requires a wiring Loom (A LOOM 2.5m long), depending on the application and the amount of outputs etc needed you may need a B loom as well (B LOOM 2.5m Long).

We can also provide the following with your new Link ECU at an added cost:
- Fuel System Upgrades
- Turbosmart Wastegates, Blow off valves and Fuel Pressure Regulators
- Boost Control Solenoids
- Dyno Tuning
- Engine sensors and plugs etc
- Full Link ECU engine wiring installation available at an extra cost