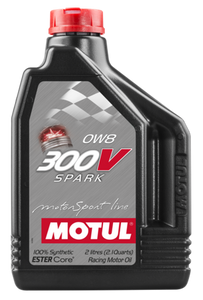 Motul 300V Spark 0w8 2L
Regular price $57.00 Sale
Motul 300V Spark 0w8 is a 100% Synthetic racing lubricant with Double Ester-Technology for racing cars. The SAE 0W-8 viscosity allows fast oil pressure establishment while guaranteeing at hot temperature high oil pressure for outstanding reliability and faster engine revving. 

For decades MOTUL has developed high performance synthetic Ester based lubricants. By selecting esters over other high performance synthetic base stocks and combining them with an innovative additive package, MOTUL has created a perfect synergy. This most advanced Ester Core Technology allows maximum power output of the engine without compromising reliability and wear.  
The SAE 0W-8 viscosity enables to compensate high engine oil dilution by unburned fuel and maintains a stable oil pressure.
OEM Approval:

 

ABOVE EXISTING STANDARDS

Application:

 

ENGINE OIL,RACING

Engine Type:

 

PETROL

Quality:

 

100% SYNTHETIC

Viscosity:

 0

W8
107193