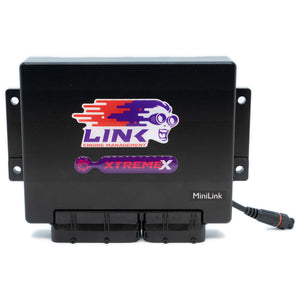 BMW Mini Cooper S 2002-2006 Link G4X Plug In ECU
Regular price $1,648.00 Sale
This product is the latest Link G4X Mini Cooper S  Plug-in ECU, A fully featured, 4 cylinder ECU with built-in wide band and E-throttle controllers. With 8 injector drives and 6 ignition drives, the G4X Mini Cooper S Plug-in ECU is perfect for almost any Mini from 2002 - 2006.
ECU features:
Up to 6D fuel and ignition mapping

Precision closed loop cam control (four cam, independent control)

Sequential fuel delivery

Digital triggering, all OEM patterns

OEM idle hardware supported




5D boost control with three switchable tables




Motorsport features - antilag, launch, flat shift




Continuous barometric correction (on board)




CAN port




QuickTune - automated fuel tuning




Individual cylinder correction




USB tuning cable included




Stats recording into on-board memory




Gear compensations for spark, boost and fuel




Real time selectable dual fuel, ignition and boost maps




Sync and crank sensors can be a combination of Hall effect, variable reluctance or optical




Boost control referenced to gear, speed or throttle position




512 mega bytes data logging memory




Staged injection




Knock with "windowing"
Link G4X ECUs do not require the use of an air flow meter. The engine can be converted to speed density using  MAP sensor and an intake air temperature (IAT) sensor ( air temp sensor sold separately ) 
The G4X Mini Cooper S R50 ECU comes with a non-engine-specific base map. The ECU will need to be configured for the engine type and then tuned by a professional. The ECU comes with free PCLink software.
We can also provide the following with your new Link ECU at an added cost:
- Fuel System Upgrades
- Turbosmart Wastegates, Blow off valves and Fuel Pressure Regulators
- Boost Control Solenoids
- Dyno Tuning
- Engine sensors and plugs etc
- Full Link ECU engine wiring installation available at an extra cost