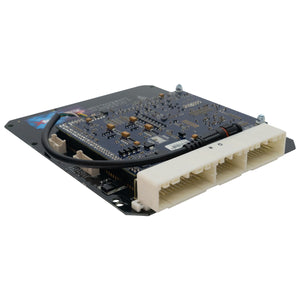 Honda Civic Gen 5 (1992-1995) Link G4X Plug In ECU
Regular price $1,217.00 Sale
This is the latest Link G4X Honda Civic Gen 5 (92-95) Plug-in ECU
Designed for the 1992-1995 Honda B16 and B18 engine. All models that use the Honda "OBD1" ECU. 

Please check your connector matches the header in the listed photo before purchasing.  
This ECU works for manual transmissions only.  
No onboard MAP sensor. 
Knock control is not available on this ECU. 
Most factory features are supported. 
Suitable Applications:  
1992-1995 Gen 5 Honda Civic DX/LX/EX/Si 
ACURA: 92-95 Integra RS/LS/GS/GS-R 
HONDA: 90-95 Accord DX/LX/EX 
93-95 Del Sol S/Si, 94-95 Del Sol VTEC 
90-91 Prelude Si & 92-95 Prelude S/SE/Si/VTEC 

G4X PlugIn Key Features (where applicable):
Up to 6D fuel and ignition mapping
Precision closed loop cam control (four cam, independent control)
Sequential fuel delivery
Digital triggering, all OEM patterns
OEM idle hardware supported
5D boost control with three switchable tables
Motorsport features - antilag, launch, flat shift
Continuous barometric correction (on board)
CAN port
QuickTune - automated fuel tuning
Individual cylinder correction
USB tuning cable included
Stats recording into on-board memory
Gear compensations for spark, boost and fuel
Real time selectable dual fuel, ignition and boost maps
Sync and crank sensors can be a combination of Hall effect, variable reluctance or optical
Boost control referenced to gear, speed or throttle position
512 mega bytes data logging memory
Staged injection
Knock with "windowing"

The G4X Honda Civic Gen 5 (92-95) plug-in ECU comes with a non-engine-specific base map. The ECU will need to be configured for the engine type and then tuned by a professional. The ECU comes with free PCLink software.

We can also provide the following with your new Link ECU at an added cost:
- Fuel System Upgrades
- Turbosmart Wastegates, Blow off valves and Fuel Pressure Regulators
- Boost Control Solenoids
- Dyno Tuning
- Engine sensors and plugs etc
- Full Link ECU engine wiring installation available at an extra cost