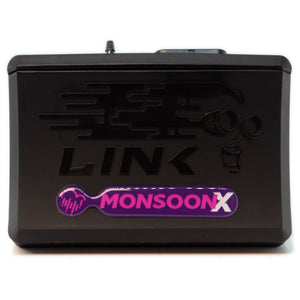 G4X MonsoonX Link ECU - Wire In
Regular price $1,147.00 Sale
The latest Link G4X MonsoonX engine ECU, If you like the value of the Atom, but need just a couple of extra features then the Monsoon is the ECU for you.
With the Monsoon you have all the repower capabilities of the Atom, but you can also choose to run some of the following motorsport features: Gearshift control, Launch Control, Anti-lag, VVT Control and closed loop boost.
The MonsoonX has been upgraded to provide 512 megabytes of data logging, meaning you can log much more data at a faster sample rate. Control loops are also more precise compared to its G4+ predecessor, along with advancements such as single precision floating point format fuel tables, better resolution within ignition timing and faster communications. These upgrades make the MonsoonX a true powerhouse in a small shell.
-Please note-
The monsoon will run any of the above motorsport features, but it cannot run them all at once. Check with us if you are unsure on which features you need.

Monsoon Specifications:

100 channels of logging. 512 of logging memory.
All Motorsport features including antilag, traction and launch control.
Built in trigger oscilloscope.
Onboard Knock Control – support for two knock sensors wired directly to the ECU.
QuickTune – automated fuel tuning.
OBDII output stream – send engine data to your tablet or phone using an OBDII to wifi/bluetooth adaptor (not included).
Up to 6D fuel and ignition mapping.
Real time selectable dual fuel, ignition and boost maps. Individual cylinder correction. 
Monsoon Inputs & Outputs
Inputs - 4x Digital Inputs, 2 x Temperature Inputs, 4 x Analog Inputs, 2 x Differential Trigger Inputs, 1x Onboard 4 bar map sensor 
Outputs - 4 x Injection Drives, 4 x Ignition Drivers, 6 x Auxiliary Outputs, +5V Sensor Power Supply
Connectors 1 x Thirty Four Pin, waterproof Connectors 1 x CAN Bus 1x USB Mini Tuning Connection.
*Unused ignition drives can also be used as Aux outputs
The Monsoon comes with a non-engine-specific base map. The ECU will need to be configured for the engine type and then dyno tuned by a professional.
We can also provide the following with your new Link ECU at an added cost:
- Fuel System Upgrades
- Turbosmart Wastegates, Blow off valves and Fuel Pressure Regulators
- Boost Control Solenoids
- Dyno Tuning
- Rollcages
- Certification